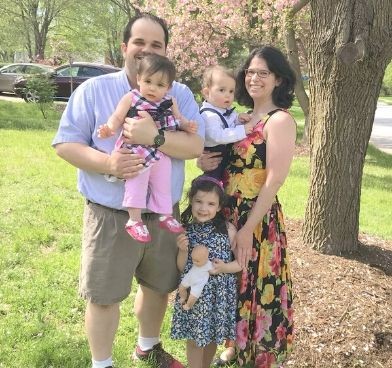 Marc, Abby, Dara (4), Adelyn (1), and Bradley (1) Snyder are our PJ Library Family of the Month! The Snyders have attended many PJ Library programs over the years. Adelyn and Bradley attend Shabbat Tots each week and Dara attended when she was younger. The family lives in Clarksville and loves receiving their PJ Library books each month. Read below to find out more about the Snyder family!
 
How did you hear about PJ Library?
We heard about PJ Library through our older cousins who love their PJ Library books!
What is your family's favorite PJ Library book?
It's impossible to pick just one! We love so many PJ Library books. Our favorites are Todah, Laila Tov, Happy, Happy!, The Hardest Word, and The Shabbat Box. 
Why is PJ Library important in your home?
It brings so many Jewish traditions to the children's level. The books and events have become part of their everyday life.
What is your favorite PJ Library program?
All of our kids love Shabbat Tots and the end of the summer picnic. We also love hosting PJ Library Get Togethers. (You can host one too! Apply here.) 
Thank you Abby and Marc for sharing your love of PJ Library! If you'd like to be featured as a PJ Family of the Month, email Allison Weil.