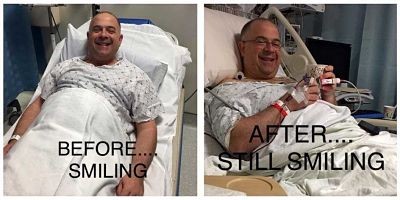 Six years ago, Jason Fischbein of Clarksville, Maryland brought his children to Howard County's Purim Palooza & Kids Activity Expo. While there, he stopped by a special table run by DKMS, an organization that recruits bone marrow donors for those who have blood diseases or cancers. In just a few minutes, Fischbein had his mouth swabbed and his information added to an international database of potential bone marrow donors. By the time DKMS contacted him about a match in late 2015, he had nearly forgotten about the drive but still did not hesitate when asked to become a donor.
"I told her yes," said Fischbein. "God forbid I was on the other side, I wouldn't want anybody hesitating on the other end."
So far, Fischbein is the only one of the 53 Palooza donors to receive the call.
The bone marrow drive at the 2012 Palooza was initiated by Robert Sacks, spiritual leader at Calah Congregation, who has personally experienced the power of a bone marrow donation. In the 1980s, Sacks's daughter Dani received a bone marrow transplant from her brother that prolonged her life for over 20 years.  To Sacks, Fischbein's donation represents the power of just one more person signing up in the donor registry. Kelly Taylor, Donor Recruitment Process Manager at DKMS, agreed.
 "Every year there are thousands of patients in need of a transplant and it's really important that we have more donors like Jason who are ready and willing when they get the call to step up and potentially save someone's life," said Taylor.
As for Fischbein, he has no regrets about his donation or the outpatient surgical procedure. Although he emphasized that different people experience different symptoms, his own discomfort was minimal and temporary. But most importantly, the chance to save someone's life was not one that Fischbein would give up, even if the opportunity arose again.
"This was my opportunity to change someone's life for the good," he said. "How can you pass that up?"
Potential bone marrow donors can now use home kits to be added to the donor registry! For more information, visit dmks.org/Register. To find out more about tikkun olam opportunities in Howard County, visit JewishHowardCounty.org/GoodDeedsDay.